Sandalwood powder is burned in protection, healing and exorcism spells. When mixed with lavender (our Virgo oil!) it makes an incense designed to conjure spirits.

Sandalwood is traditionaly the wood rolled on bamboo sticks to make incense sticks. The fragrant wood possesses very high spiritual vibrations and is burned at seances and Full Moon rituals when mixted with frankincense (our Meditation oil). Because of its intense spiritual energy, sandalwood incense is used in most all Eastern ancestor rituals and honorings.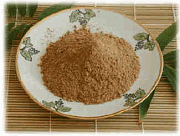 Arabian Sandalwood
Our Arabian Sandalwood is a thick sweet, somewhat nutty sandalwood, very popular.
$7.95
1/4 oz
$15.95
1 oz
$27.95
4 oz
$11.95
1/3 oz roll-on
$7.95
2 oz room spray
Go to the list of
Essential Oils
,
Fragrance Oils
or
Our Oil Blends
.